ABOUT THE CONFERENCE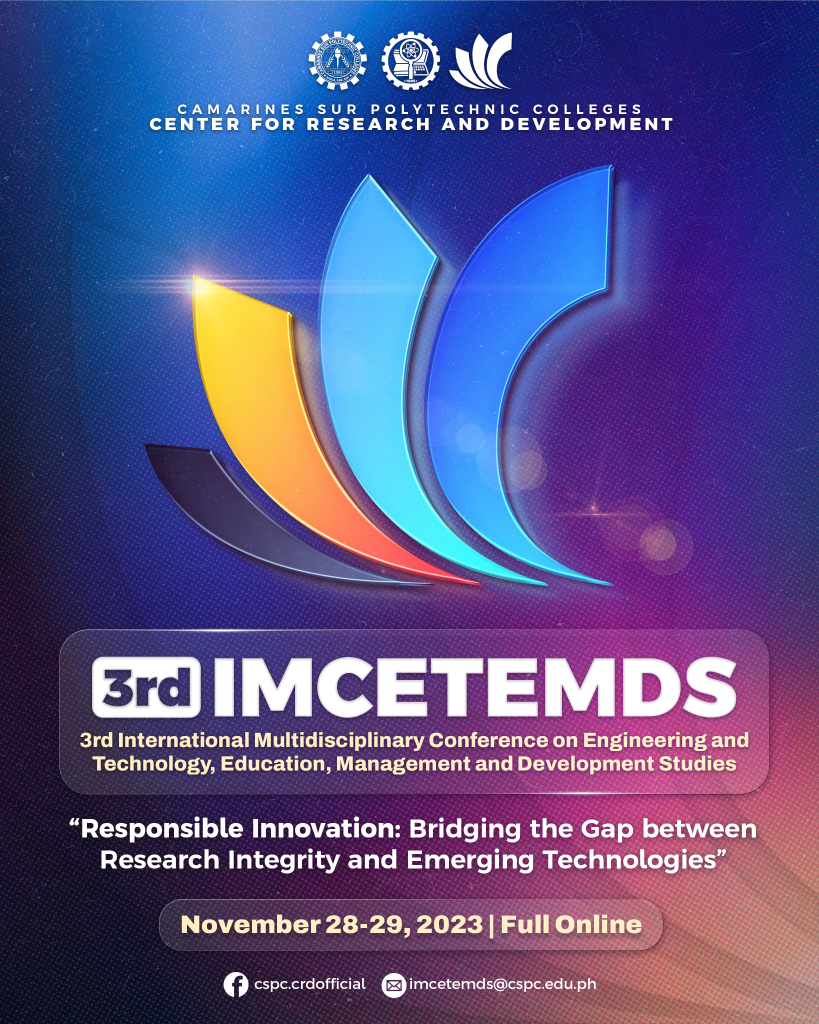 The 3rd International Multidisciplinary Conference on Engineering and Technology, Education, Management and Development Studies (3rd IMCETEMDS) anchored on the theme, "Responsible Innovation: Bridging the Gap between Research Integrity and Emerging Technologies" will highlight the intersection of emerging technologies with the imperative of research integrity. It recognizes the transformative potential of technologies while emphasizing the need to uphold ethical standards, transparency, and accountability. The conference aims to explore how a culture of responsibility can be cultivated to ensure that the benefits of emerging technologies are harnessed without compromising research integrity. Likewise, this conference will provide an academic platform for researchers, professionals, scholars, and academicians to present the latest research findings and describe emerging technologies and directions in Engineering and Technology, Education, Management, and Development Studies toward sustainable academic, industry, and community developments. The conference also seeks to contribute to presenting novel research results in the fields.
Objectives:
The conference aims to:
Provide an avenue for researchers, professionals, scholars, and academicians to exchange and share their knowledge, information, ideas and experiences, as well as to discuss current development in their respective fields. 
Strengthen the research and development capabilities of researchers to communicate research results to the academic and industrial community.
Establish a venue for scholars, researchers and professionals who can work with others for future research and development endeavors.
Scope and Conference Topics:
Engineering

Science and Technology

Agriculture, Aquatic and Natural Resources

Education

Business Management and Entrepreneurship

Health Sciences

Public Management

Social and Behavioral Sciences

Gender and Development
Important Dates:
| | |
| --- | --- |
| ACTIVITIES | DATES |
| Conference Dates | November 28-29, 2023 |
| Deadline for Abstract Submission | October 27, 2023 |
| Notification of Abstract Acceptance | October 30, 2023 |
| Deadline for Submission of Full Papers | November 17, 2023 |
| Registration | November 17, 2023 |
| Deadline for Submission of Recorded Video Presentation | November 20, 2023 |
Abstract Submission:
Submit a 200 to 250-word abstract consisting of the following sections:
Title of the Paper
Name of Author/s
Affiliation
Email Address
Content must contain the following: rationale, objectives, methods, results, and conclusion and recommendations.
Keywords
Full Paper Submission:
The final paper should follow the prescribed format with the following sections:
A. Title of the Paper
B. Name of Author/s
C. Affiliation
D. Email Address
E. Abstract
F. Keywords
G. Introduction
H. Methodology
I. Results and Discussions
J. Conclusion
K. References.
Final papers should be submitted electronically in pdf format.
Full paper must be comprised of maximum of 10 pages only (5,000-7,000 words).
| | |
| --- | --- |
| CRITERIA | PERCENTAGE |
| Originality | 20% |
| Technical Merit of the Study | 25% |
| Significance and contribution of the Findings/Outputs | 25% |
| Quality of Information | 20% |
| Language Usage | 10% |
| Total | 100% |
Oral Research Presentation Guidelines:
To minimize technical error and difficulties during the conference, all presentations will be pre-recorded and must be submitted on or before November 20, 2023. Send it through the email:

[email protected]

Presenters must be present during the live open forum and question and answer portion.
The video presentation can be made through the OBS Studio program or Powerpoint Program with video.
Use standard English as the medium of oral presentation.
The suggested number of slides is 15-30, however, it will depend on the decision of the presenter as long as it will not exceed the allotted time of 10-15 minutes.
Best Presenter will be selected based on the following criteria:
| | |
| --- | --- |
| CRITERIA | PERCENTAGE |
| Mastery of the topic (Shows extensive knowledge of the topic) | 30% |
| Language use and delivery (Communicate effectively) | 25% |
| Quality of the video presentation (Clarity of video and audio) | 25% |
| Powerpoint Presentation (Clarity of presentation of graphs/images) | 20% |
| Total | 100% |